Undertaking |
Fotoptica
Secretaria de Estado da Cultura de São Paulo
The 6th edition of the Festival, held at the Museum of Image and Sound, displayed a remarkable improvement in entry quality. Besides, experiments combining video and music became strong contenders. A case in point was Juliette, directed by Sandra Kogut with music from performance artist Fausto Fawcett, about the surreal drowning of mulatto women in tequila on Copacabana Beach. Another experiment in the musical genre was Andréia Andróide. The big winner of the Competitive Show was Duelo de Deuses, a documentary about the spread of evangelical churches on Brazilian TV, exploring the phenomenon of "telefaith" and electronic bishops," which continued to gain traction around the world.
The Festival's parallel shows featured guests for the first time. Curator Daniel Minaham, from New York media center The Kitchen, brought along two special American video art selections. A retrospective of video productions by the American artist Aisha Quinn was also featured.
A partnership with TV Gazeta gave rise to the groundbreaking Videojornal, a special bulletin about the Festival's program. It was the first time that a channel produced live coverage of the Festival and featured the event's winners in its programming.
For the first time, a small part of the Festival's budget was publicly funded under the Sarney Law. Agreements with media centers enabled the awarding of study scholarships to the Competitive Show's winners.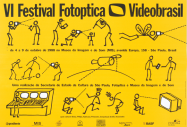 Programme
competitive show
film and/or video screenings
exhibition
documentation