Undertaking |
Associação Cultural Videobrasil
SESC São Paulo
General Curator |
As of October 3, the city of São Paulo will be hosting debates on the cultural production of the Global South as part of the 20th Contemporary Art Festival Sesc_Videobrasil, in an edition that mirrors both comprehensively and poetically the countless crises that have lately challenged contemporary society. Besides exhibiting the selected works, the Festival will also feature performances and public programs which will jointly occupy several spaces at Sesc Pompeia up to January 2018.
For the regional director of Sesc São Paulo, Danilo Santos de Miranda, "the 20th Contemporary Art Festival Sesc_Videobrasil, with proposals by artists from different nations in the geopolitical South, lies at a crossroads where the specific meets the general. Based on this premise, Sesc presents a cultural initiative akin to experiences dedicated to casting off shackles inherited from the colonial past and imposed by a peripheral geopolitical condition." Miranda mentions the importance of the partnership between Sesc and Associação Cultural Videobrasil, which, since the 1990s, "has enabled such intersections between local and international forces to create new nodes originating in the South."
"In these unstable times, as narrative disputes escalate and local and global sociopolitical rearrangements are relentlessly driven by the permanent specter of crisis – whether economic, ecological or cultural – the group of selected artists brings out art's desire to expand our worldviews, encompassing the study of life, of our origins, of the evolution of the universe and of the dynamics of social groups throughout history, as well as the invention of new ways of doing politics," affirms Solange Farkas, chief curator of the Festival and director of Associação Cultural Videobrasil, one of the presenting entities of the event, alongside Sesc São Paulo.
"These are artistic practices that blur the boundaries between sciences and take us on a journey of the origin of history, of societies and of Earth," adds Solange.
---
Visual identity and graphic design | Vitor César and Felipe Kaizer
Photographic record | Everton Ballardin and Pedro N. Prata
Video record | Marco del Fiol and Jasmin Pinho / Mão Direita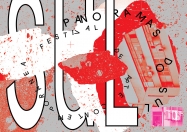 Programme
exhibition
performance
public programs
launch