Undertaking |
Fotoptica
Museu da Imagem e do Som (São Paulo)
Secretaria de Estado da Cultura de São Paulo
At the time of the third edition of the Festival, held at Sérgio Cardoso Theater, video was gaining space in Brazil. Independent productions were gaining ground on TV: production company Olhar Eletrônico was selling its work to shows aired on prime time on Rede Globo, and channels like Cultura, Bandeirantes and Gazeta were also opening their programming to the new generations.
Paying attention to this context, the Festival featured three major thematic sections: the entry of video into TV, videotheater, and the spread of the growing national output domestically and abroad. The first signs of the new medium's stabilization. The monopoly of open TV networks continued to permeate the debates, which considered alternatives such as UHF and cable TV.
The Competitive Exhibition highlighted an experiment with "channel-less" community TV by the TV Viva group, from Recife (Pernambuco), the grand prize winner in this edition, as well as works marked by experimentation with poetical language. The State Secretariat for Culture created the Stimulus Prize for video. The exhibition Odisseia dos Sons (Odyssey of Sounds) and a hologram exhibit explored the specific language of video. The Videobrasil Video Library, a collection that would later comprise thousands of titles, was born.
---
Visual identity and graphic design | Bill Martinez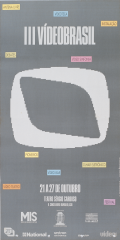 Programme
competitive show
film and/or video screenings
exhibition
performance
public programs